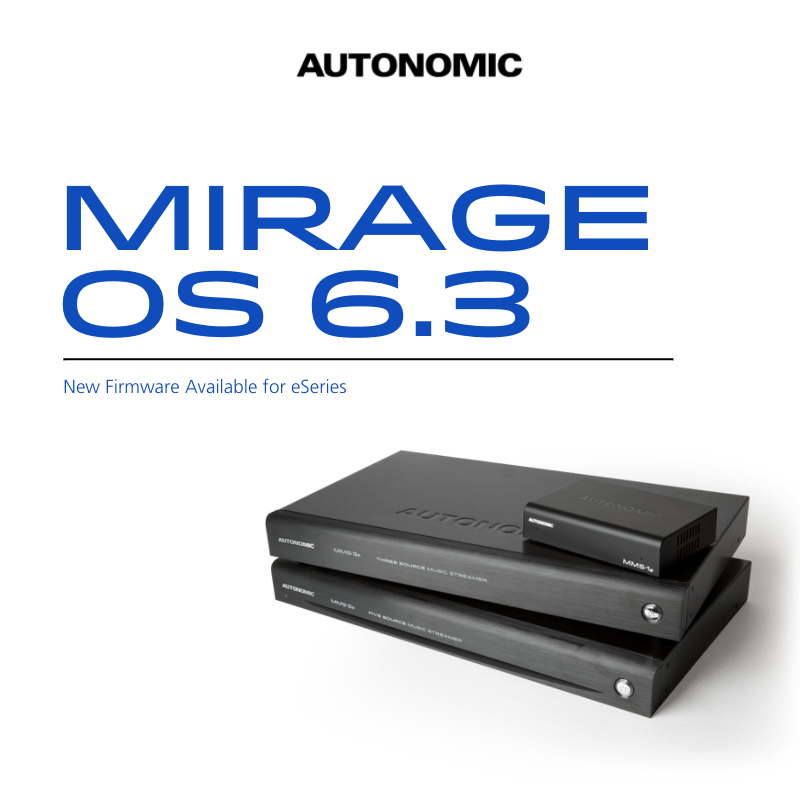 The latest Mirage OS 6.3 firmware release available for all eSeries Mirage Media Servers (MMS) delivers features and performance enhancements further enriching the music experience for your customers.
What's New in 6.3?
SiriusXM Upgrade
New to the release is a full rewrite of SiriusXM supporting their latest API that includes significant performance and stability improvements.
Now users can playback SiriusXM Xtra channels, access content in fewer clicks, and experience better organization of On Demand content from the MMS.
Nickname Streaming Service Accounts
Conveniently conceal email address usernames with a custom nickname for easier selection between multiple user accounts for all streaming services available on the MMS.
Create nicknames through the MMS configuration page or when logging into a new service account from the user interface.
exFAT Formatted Drive Support
Expand the MMS internal storage space with external hard drives formatted with the exFAT file system to better accommodate large music libraries.
Lutron Communication & Configuration
For Lutron integrations the MMS configuration setup now accepts Lutron username and password credentials to establish communication between the Lutron processor and MMS and access Lutron keypads for configuration.
Click here to view the full release notes with over 64 new features and improvements.
Remotely apply Mirage OS 6.3 to eSeries systems using the Autonomic Dealer Zone.
Autonomic Trade-In Program
Upgrade legacy A Series systems to eSeries for access to the latest features with the Autonomic Trade-In Program. Authorized dealers are eligible to receive a store credit on account for the purchase and replacement of existing A Series MMS-5A and MMS-2A systems. Contact sales@autonomic-controls.com to learn more.