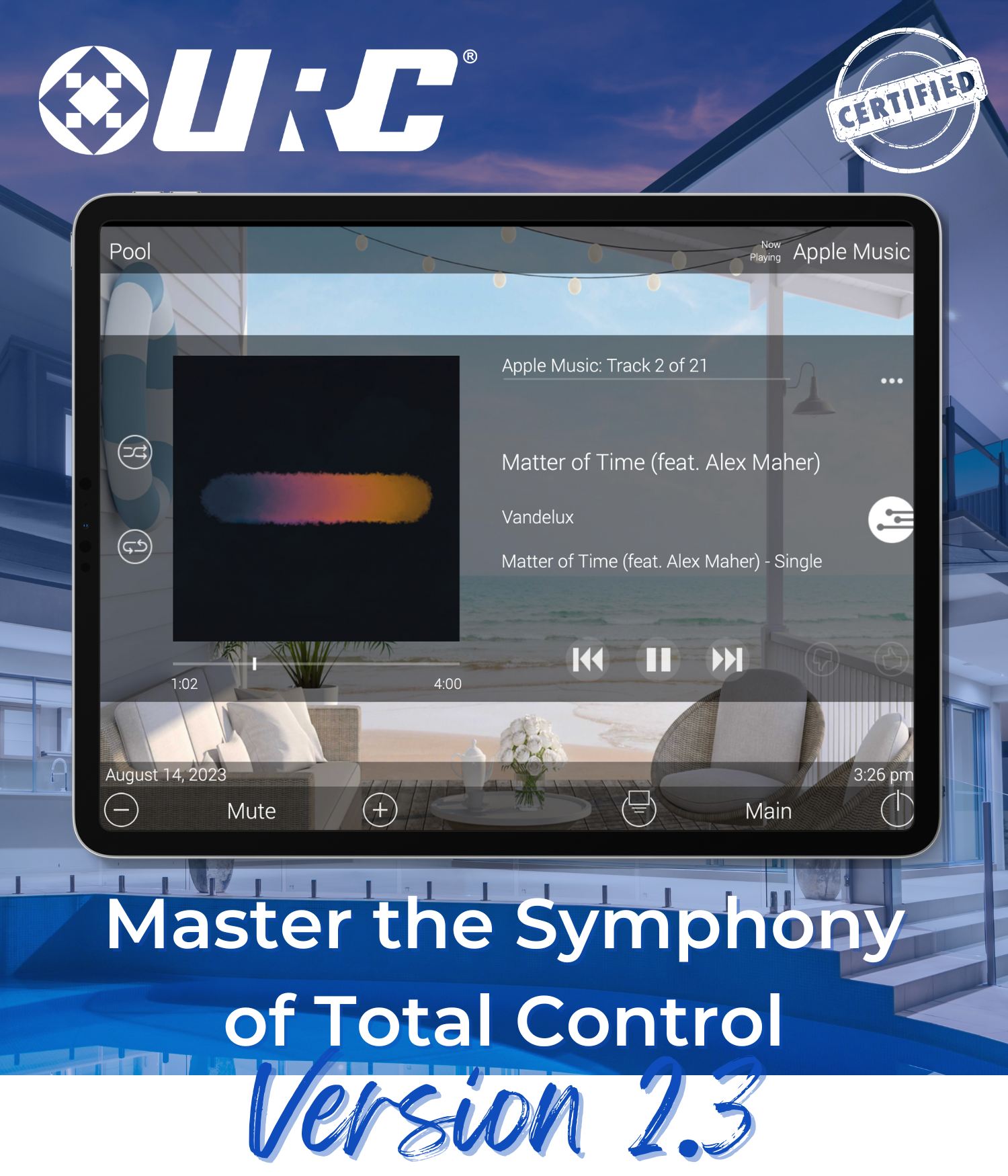 We're thrilled to announce the latest enhancement in audio integration for URC Total Control systems and our award-winning eSeries MMS models, introducing the URC-Certified version 2.3 module! This powerful integration brings a world of convenience and innovation to your URC Total Control audio experience, offering seamless access to your favorite music sources and unprecedented control over your audio environment.
What's New in Version 2.3?
Direct Launch for Streaming Music Services
Enjoy instant access to your preferred streaming music services with built-in sources for direct launch. The version 2.3 module features eye-catching streaming service logos that enable one button press to jump directly into a streaming service. Your music is just a tap away, providing you with a seamless and frictionless entertainment experience.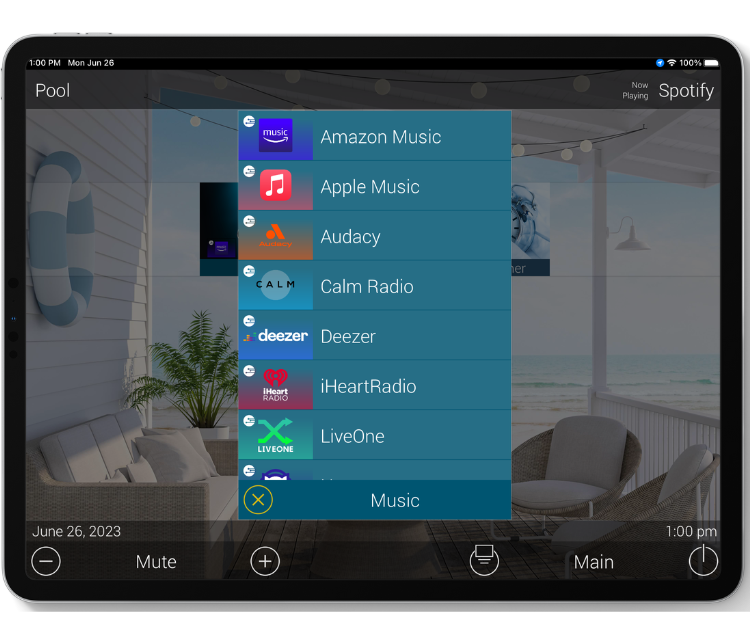 In addition to directly launching a streaming service, each service has been updated with icons when browsing streaming music services directly within the room's user interface.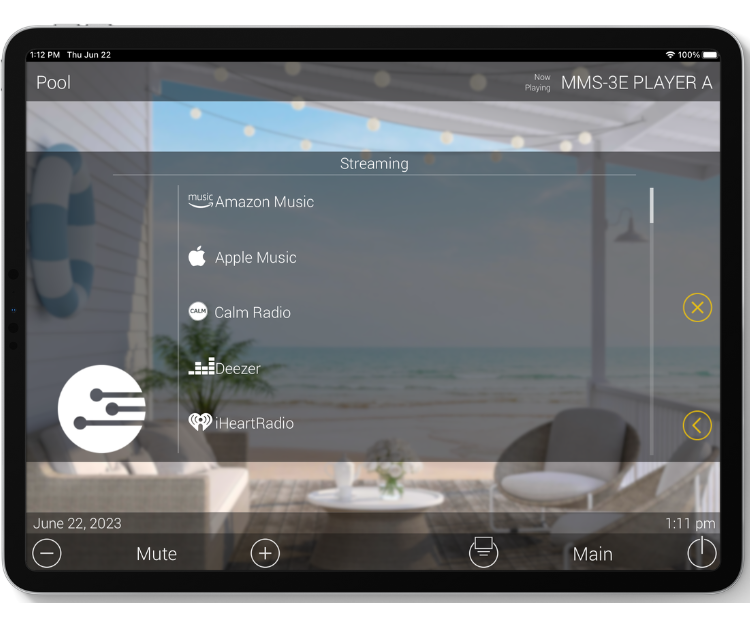 Reorder Tracks within a Queue
Take charge of your playlist like never before. Version 2.3 features the ability to easily reorder tracks to curate music to match your mood and preferences. Once you orchestrate the desired order of your tunes, simply save it as a playlist to recall later.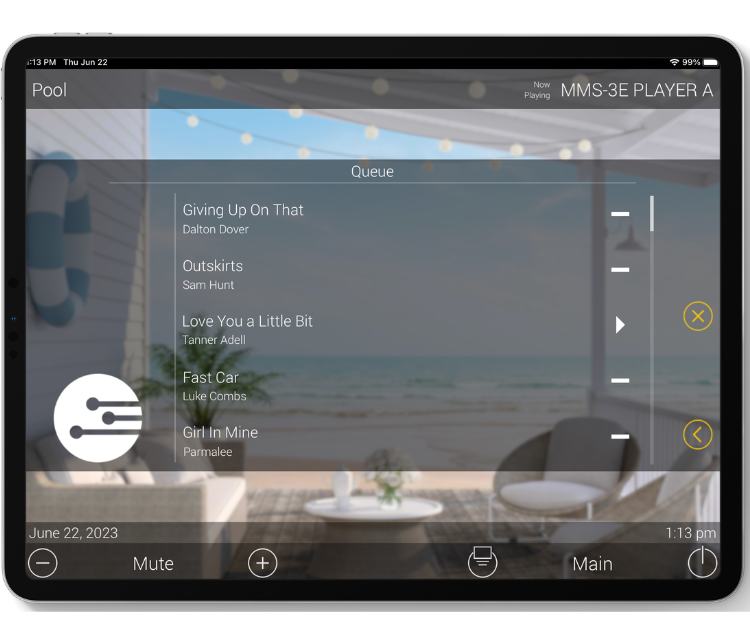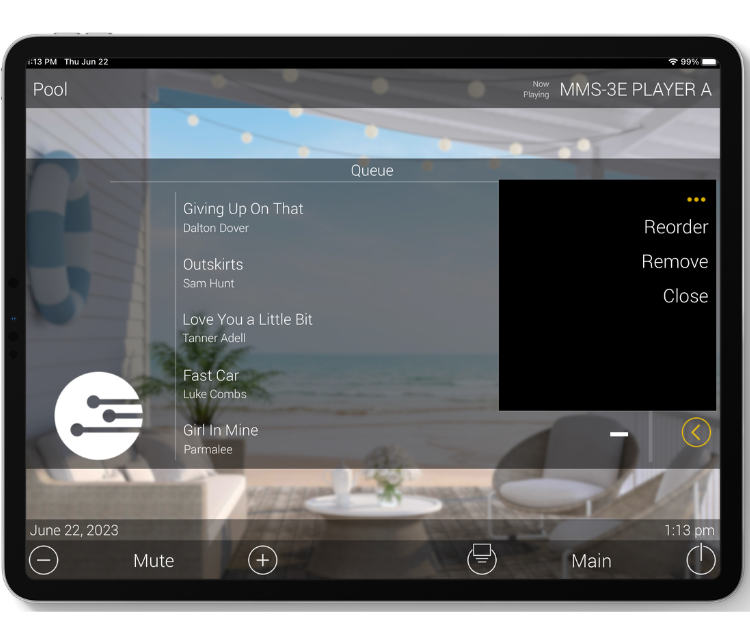 Expanded Support for Apple Music® and Calm Radio® with the Advanced Music Bridge
Version 2.3 adds seamless support for Apple Music and Calm Radio when pairing the Advanced Music Bridge with any eSeries MMS model to unlock Mirage OS 7.0 or greater. Users can add multiple user accounts and have full access to search and browse Apple Music's extensive catalog of over 100 million tracks or curated playlists in addition to any user-stored content such as playlists, purchased content, or favorite artists, tracks, and songs.
Calm Radio presents its subscribers access to music that harmonizes their day along with a variety of audiobooks. Free and Premium accounts are supported for Calm Radio.
Global Now Playing Button
Access your currently playing track at your fingertips. The inclusion of a global Now Playing button lets you swiftly jump to the Now Playing screen within the module, ensuring you are always in tune with the music.
Get Started with Autonomic and URC Total Control
Experience the evolution of control and music with Autonomic and URC Total Control's enhanced integration. The URC-certified version 2.3 module is available for download here (.zip file) or from any product page under "documents" at Autonomic.biz or download the module from the URC Dealer Portal via "Third-Party Certified" under the Audio category. View the full list of module updates and history in the UpdateHistory.txt file within the module download and access the programming guide for step-by-step instructions to properly program the integration.
Contact Autonomic Sales to learn more about our exclusive direct dealer programs or to schedule a product consultation.