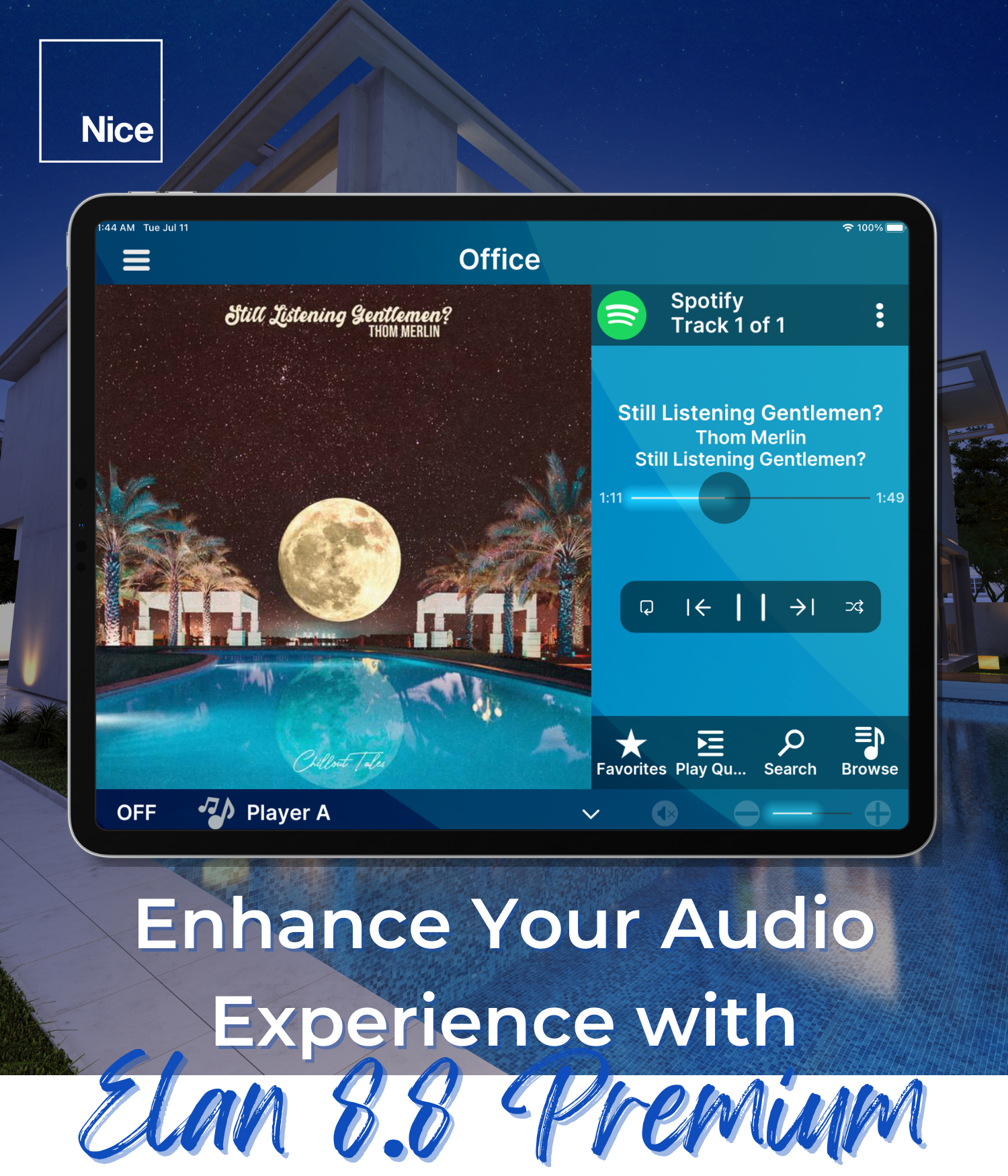 We are excited to unveil our latest collaboration with Elan, a Nice brand, introducing the enhanced Elan 8.8 and the all-new 8.8 Premium driver. These drivers are the result of our partnership with Elan, dedicated to taking your audio experience to unprecedented levels. With superior integration and seamless accessibility, the Elan 8.8 and 8.8 Premium drivers provide an unparalleled connection between Autonomic streaming devices and the Elan control system. Get ready to elevate your audio journey with this remarkable collaboration.
Elan 8.8 Updates: A Refreshed Experience
With the latest Elan 8.8 driver update, the streaming service icons were refreshed to showcase the services latest icons and branding, providing a more visually pleasing and intuitive interface. These updates improve navigation and make it easier than ever to access your favorite music and streaming services. Alongside enhanced performance and stability, the Elan 8.8 updates ensure a seamless and enjoyable user experience.
Introducing Elan 8.8 Premium: Unleashing New Possibilities
Building upon the foundation of the Elan 8.8 driver, we are excited to present the Elan 8.8 Premium driver. This new user interface brings revolutionary features that redefine how you interact with your audio system. Key highlights include:
Global Search across all streaming music services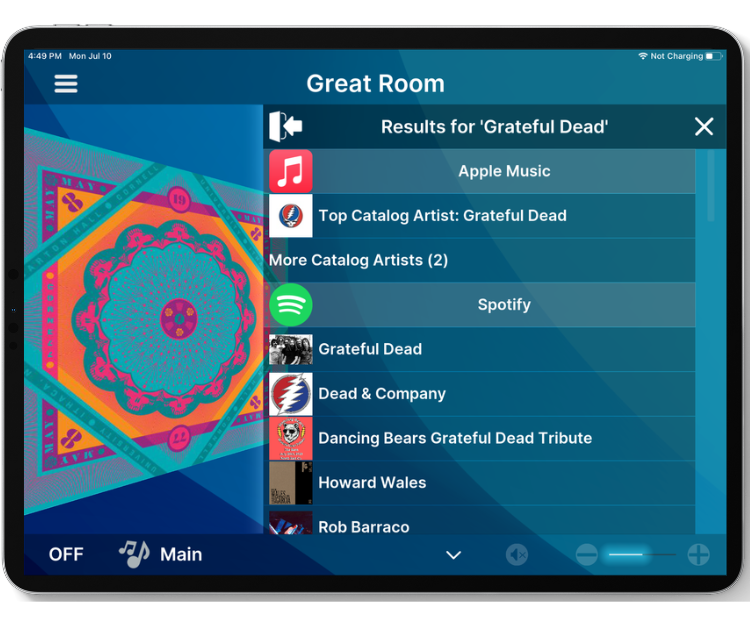 With the Premium driver, you can now effortlessly search for your favorite tracks, albums, or artists across multiple streaming services simultaneously. Say goodbye to the hassle of switching between services – the power of comprehensive search is now at your fingertips.
Easier access to play and manage favorites
Managing your favorite music just got simpler. The 8.8 Premium driver allows you to effortlessly organize and play your favorite tracks, albums, or playlists from various streaming services, eliminating the need for tedious manual selection.
Improved search functionality
We understand the importance of seamless navigation. With the Elan 8.8 Premium driver, you can easily pick up where you left off by returning to your most recent search position in any streaming service menu. Enjoy a more fluid and uninterrupted audio exploration.
Adding Apple Music and Calm Radio with the Advanced Music Bridge
To expand your audio experience even further, we offer the Advanced Music Bridge, enabling seamless integration of Apple Music and Calm Radio into your eSeries MMS. By incorporating the Advanced Music Bridge, you gain access to Mirage OS 7, a gateway to an extensive selection of music. Contact Autonomic Sales to learn more about our bundle promotions when combining the MMS-5e or MMS-3e with the Advanced Music Bridge or add the products to your shopping cart to reveal special pricing.
Elan 8.8 Premium: Compatible and Accessible
The Elan 8.8 Premium driver is compatible with any eSeries MMS model paired with the Advanced Music Bridge and our digital amplifiers, enabling a vast range of possibilities for your audio setup. To access this powerful interface, simply visit the Elan dealer portal and purchase the Elan 8.8 Premium driver.
Complete Your Audio System with Mirage Digital Amplifiers
To fully optimize your audio distribution, we recommend complementing your eSeries MMS with Mirage Digital Amplifiers. Designed to manage audio distribution efficiently, our amplifiers support eAudiocast 24-bit/96kHz hi-res AoIP audio distribution, eliminating the need for audio interconnects between MMS and amplifiers. This streamlined solution saves time on wiring and installation, allowing you to focus on enjoying your audio experience.
Key Features of our Amplifiers:
Highly scalable, supporting up to 32 simultaneous network sources across as many as 96 zones (limited to 32 zones when integrated with Elan).
No advanced networking equipment required, simplifying system setup and reducing complexity.
Full volume control and zone selection compatibility with Elan, providing seamless integration.
7 Band Parametric EQ settings per zone, built-in matrix functionality, and zone linking for power, source and/or volume.
Shop Autonomic Amplifiers and unlock the true potential of your audio system.
Get Started with Autonomic and Elan
With the Autonomic eSeries Mirage Media Servers, Advanced Music Bridge, and Amplifiers, we provide a comprehensive audio solution for Elan dealers and audio enthusiasts alike. Experience the convenience, flexibility, and immersive audio quality our products offer. Our full product lineup is available 24/7 at Autonomic.biz or Elan dealers can purchase our eSeries MMS models and the Advanced Music Bridge on the Elan Dealer Portal. For further information on our direct dealer programs sign up to become a dealer or reach out to us and our dedicated team will be delighted to assist you.
Elevate your audio experience with Autonomic and Elan!